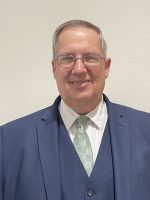 John Scott, Sherri, his wife, and their son, Andrew,  reside in Ocala. Their two daughters, Krystal and Hannah, live in Indiana.
John attended Great Lakes Christian College in Lansing, Michigan.  He graduated with a BRE Ministry Major wIth Bible Minor in 1989.
John's personal interests are spending time with his family and the family and friends of Southwest Christian Church, studying God's Word, reading, playing golf, going to the gulf for sunsets with his wife or going out for dinner and a movie, coaching youth, cheering on the Michigan State University basketball and football teams, keeping in touch with people and lifting them up to the Lord. 
John served as a weekend Youth Minister during his college years.  After graduating he continued serving as  a Youth Minister for a few more  years.    He was then called to serve as the Senior Minister with Owosso Church of Christ in Owosso, Michigan.  
John also served as a member of the board of directors at Lake James Christian Assembly and served as Dean at Tri-State Christian Camp in Defuniak Springs, Florida. 
John served as a Preaching Minister with three other churches before coming to Southwest Christian Church.